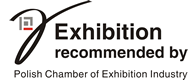 15.02.2018
This event is surely much awaited by the entire floral art industry. Just like a year ago, the Business Evening of the Special Days and Gardenia Fairs will have a unique setting. Its participants will admire the skills of the best Polish florists and decorators in a completely new, exciting form during the evening DecoMotion Art floral art gala event.
07.02.2018
The visitors of Special DAYS 2018 Fair will have an opportunity to benefit from expert advice on how to run one's own business, professional training sessions and floral art workshops and demonstrations that have always enjoyed greatest interest.
02.02.2018
Unforgettable floral art shows and workshops, decorative articles and floral art news, unusual varieties of flowers, beautiful Christmas decorations and lots of expertise – all those will be waiting for the participants of the Special DAYS Fair of Christmas and Occasional Products, which will take place in Poznań on 22-24 February 2018. For the enthusiasts of florist art, flower shops and homing stores owners, garden centres and DIY networks, it is one of the most important events in the calendar of industry meetings.
More news
---

Special Days Holiday and Special Occasion Products Fair | Next edition: 14-16.02.2019, Poznań, Poland